Fantastic Beasts: The Crimes of Grindelwald
(2018)
Database info powered by: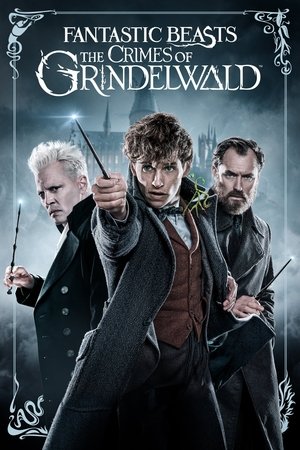 Fantastic Beasts: The Crimes of Grindelwald
(2018)
5.13
Rate
Plot/Story
Characters
Acting
Cinematography
Production Design
Soundtrack
Execution
Emotional Impact
Overview: Gellert Grindelwald has escaped imprisonment and has begun gathering followers to his cause—elevating wizards above all non-magical beings. The only one capable of putting a stop to him is the wizard he once called his closest friend, Albus Dumbledore. However, Dumbledore will need to seek help from the wizard who had thwarted Grindelwald once before, his former student Newt Scamander, who agrees to help, unaware of the dangers that lie ahead. Lines are drawn as love and loyalty are tested, even among the truest friends and family, in an increasingly divided wizarding world.
Director: David Yates
Release Date: 2018-11-14
Genres: Adventure
I love Harry Potter. I've read the books multiple times (including the side books) and I've seen the seven movies even more. Fantastic Beasts and Where to Find Them wasn't as good a story as the HP movies, but it did a great job expanding the Wizarding World and I kind of liked the new characters. The Crimes of Grindelwald is heartless, boring, meandering, and dumb. Beyond the performances of everyone but Johnny Depp and Ezra Miller (who are charisma vacuums who kill every scene they are in with their wooden, boring acting) and a few new creative beasts, there really isn't anything else here to enjoy. Even the cinematography is bad. There is a scene with a character as a school desk and the camera's just swaying about like the cameraman is standing on a boat in the ocean; it was literally nauseating. The CGI is would be fine if it wasn't such a big part of the movie. For a 2018 movie with a 200 million dollar budget, it's okay I guess, but I expected better. The entire movie just isn't as fun or colorful as i'm used to from HP, I get that it's foggy London, but it's far too dark and dreary. The biggest failure is the story. The script is fine but the actual plot is just awful. JK Rowling can write a solid book, but movies are clearly not her thing. At about two hours and fifteen minutes, The Crimes of Grindelwald feels really long because nothing really happens; this movie feels like it's only purpose is to be a bridge to the next one. The little bit of story that we do get is boring and I think Rowling has lost a hold of her story. There are some twists or revelations that really uncharacteristic of the characters or just don't make sense. I guess this works with the plot holes and breaking of the rules of how magic works in the Harry Potter Universe. Apparently, regular, average wizards could cast spells silently 80 years ago. A handful of times, we even see the killing curse used without the Avada Kedavra incantation. The HP lore says that the killing curse can only be performed by a very powerful wizard and requires a genuine willingness and at times desire to commit murder. Even Voldemort usually has to speak the words and it's his signature move, so for some nobody auror to cast it spur of the moment without the verbal cue is dubious at best. To not spoil the terrible story, I won't say anymore. The fact is, however, that if you are a Harry Potter/Wizarding World fan, you know you are going to see this no matter how bad everyone says it is. Had I known just how bad it was, I'd have seen it anyway because I love this world. I just hope you can temper your expectations enough to not be a heart broken as I am.
By : Greg Mueller | Date : 5 months ago
---
Coming soon