Solo: A Star Wars Story
(2018)
Database info powered by: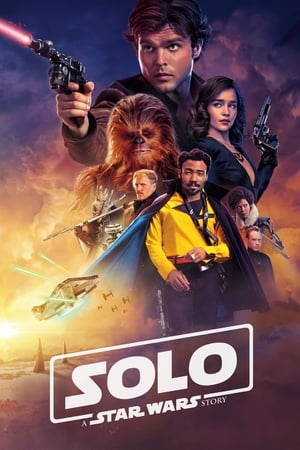 Solo: A Star Wars Story
(2018)
7.13
Rate
Plot/Story
Characters
Acting
Cinematography
Production Design
Soundtrack
Execution
Emotional Impact
Overview: Through a series of daring escapades deep within a dark and dangerous criminal underworld, Han Solo meets his mighty future copilot Chewbacca and encounters the notorious gambler Lando Calrissian.
Release Date: 2018-05-15
Genres: Action Adventure Science Fiction
As a stand alone (solo) movie, it's a highly entertaining action adventure Sci Fi film with great cinematography and special effects with the spirit of Star Wars present as felt in the various worlds we get to see, the eclectic species that inhabit the movie (including droids), the signature music and the lurking Empire. Alden Ehrenreich (Han Solo) does a solid job of portraying a younger version of Han Solo although it takes awhile to warm up to him because he doesn't quite capture Harrison Ford's voice but he somehow makes it work. The storyline is entertaining enough although I had hoped it would have introduced us to Han's childhood but instead starts off with Han as a young adult as a slave/prisoner working as a thief in Corellia with his love Qi'ra (Emilia Clarke - GOT's Mother of Dragons) and how they ultimately get separated with Han enlisting in the Empire and teaming up with Beckett's (Woody Harrelson) motley crew, getting thrown in the pit and meeting Chewbacca (Joonas Suotamo) and reconnecting with Qi'ra after a few years has passed and teaming up with Lando Calrissian (Donald Glover) and his Millennium Falcon to make the famous Kessel Run in twelve parsecs. As a Star Wars movie, it fell flat because although we were fed with all the visuals I mentioned above along with the music, the emotional pull was lacking. The characters were entertaining enough and like I said, Alden Ehrenreich did a fine job making me believe that he was a younger version of Han Solo but it just doesn't feel like it's part of the Star Wars universe because the story just didn't have the true spirit of Star Wars. You get a glimpse of it, time and time again (maybe because of the music?) but it wasn't consistent through out the film and as a Star Wars aficionado it was mediocre at best. The rapport between Han Solo and Chewbacca was spot on but it wasn't enough to lift the movie and make me believe that I was experiencing a story from "a long time ago from a galaxy far far away…" The magic just wasn't there. Again, as a solo stand alone story, it's great but this wasn't a "Star Wars" movie and I guess only die hard fans can sense that. Maybe it was from an alternate universe? Sadly, the force was lacking on this one.
By : Cockatoo 34 | Date : 7 months ago
---
Solo is what happens when you give Ron Howard a Star Wars film. It doesn't often feel like a Star Wars film rather than a generic, stand-alone Sci-Fi movie. Being a prequel certainly limits what can and can't happen, but with the un-canonization of the extended Star Wars Universe, they had a lot of room to play with, however, after the first 30 or so minutes, Solo is incredibly predictable. For the most part, Solo is exactly what I imagine 85% of people expected it to be. The Marvel influence can be felt with the terrible "jokes" and now obligatory girl-power characters. The writing is surprisingly solid, but the acting is terrible from most of the cast: no one expects a good performance from Emilia Clarke, but she does a sufficient job for her under-written character, Woody Harrelson plays a shade of the same character he's played for the last decade so he does okay, and a few of the supporting characters are fine. The problems come with Solo and Lando. I've seen all the Star Wars movies and endulged in the novels and video games of the (now irrelevant) extended Star Wars world, but I'm not a hardcore Star Wars fan. I don't care that Alden Ehrenreich is not Harrison Ford and doesn't even make an honest effort to even capture an air of Ford's version of Han Solo and with as detached from the Star Wars Universe as this film feels, it's hard to even connect them as the same character. I liked Ehrenreich's character and he grew on me as the minutes past, but Ehrenreich is a bad actor; nothing he said felt real and all his emotions were unauthentic. As bad as Alden was, Donald Glover was so much worse. Glover's version of Lando was even farther from the Lando of the original trilogy, but again, i don't care. My issue is that Donald Glover isn't even trying. Glover sleeps his way through his scenes and lacks the swagger and attitude that his character is obviously supposed to have. Aside from the acting, i don't have any real issues with Solo beyond some stylistic choices (which mostly come from having Howard direct a film so different from every other Star Wars film), barely written characters, and pushing too many minor characters into such a small story. For all these issues, Solo is a surprisingly enjoyable movie; it's not a great movie, but it is a fine film. It has some really fun action sequences, beautiful and exotic scenery (although the CG was really bad in some parts), and wasn't bogged down with exposition like the prequel trilogy. Watching Solo, I was always interested, not invested, but interested. While the box office reception paints a pretty bad picture of Solo, I found it thousands of times better than Episode 7 & 8. The bad parts of Solo can be overlooked for the pure sake of enjoying the film. It's a pretty decent Sci-Fi adventure movie that happens to have some Star Wars characters in it (even though it would probably be better without them).
By : Greg Mueller | Date : 6 months ago
---
Coming soon